When a 19-year-old kid from East Utica named Joe Carbone decided to use his life-savings of $40 to start a business, nothing - not even the Depression - could stop him! It was 1929 when this young entrepreneur, with a love of cars, opened C&S Garage on Wetmore Street with his friend and partner, Phil Sacco. Despite the Depression, Joe knew he would succeed if he concentrated on doing the best job he could - and treating people well. Although he was only 19 years old, he already knew the secret of a successful business:
customer service
.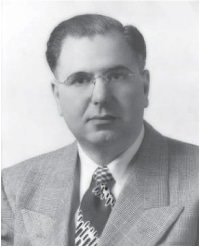 Eventually, Joe became sole owner of the business - proudly naming it Carbone Motor Sales - and began to buy and sell used cars.   
In 1933 he accepted a franchise from Graham-Paige and expanded his business to a larger facility on Bleecker Street. A few years later he became a studebaker dealer. Outlasting both of those automakers, Carbone accepted
Joe Carbone started in business in 1929 with partner Phil Sacco as C & S Garage. A Dodge franchise in 1957, a franchise that continues to provide many Central New Yorkers with cars, trucks, vans and SUVs today!
Joe's philosophy never shifted. Today it is carried on by his children and grandchildren, who manage 25 successful franchises at 11 locations in Central New York and Vermont.
"This is a family business. People associate the way we do business with our family name. I want my children to be proud and interested in the business. And I want the way we do business with our customers to be the Carbone way - honest and fair."
 -
Joe Carbone
    Founder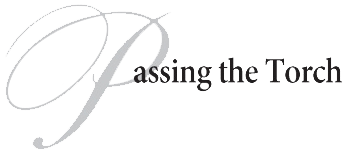 Both Don and Al Carbone have special memories of growing up in the apartment above the Bleecker Street dealership.
As kids, they came to know cars inside out, just as their father had. In fact, they started their apprenticeships from the ground up - mopping and waxing the showroom floor before school each day. They were also involved with reconditioning vehicles and preparing them for delivery, mechanical, body and paint work, parts and finally, sales. They learned to "do a good job"... at home, in school and ultimately, in business.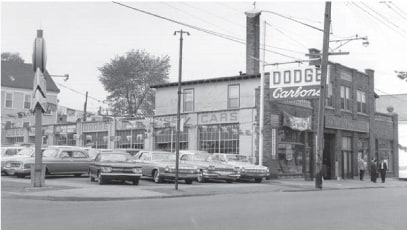 As Utica grew into the suburbs, Joe Carbone's family grew, too. Don graduated from the University of Notre Dame and after a hitch in the U.S. Marines, joined his father in the business - initially at the Dodge dealership. Before long, however, he was managing his own Ford dealership, which ultimately became Don's Superstore.
Al, meanwhile, graduated from Syracuse University and took over management of a new Pontiac dealership, which also was to grow into a multifranchise facility.
Joe's sons worked with the same determination their father had - and brought with them the vision for a network of leading-edge dealerships.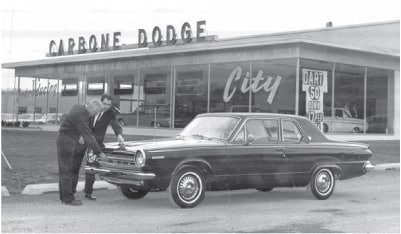 That vision was fulfilled in the following decades as the Carbones added franchise after franchise, blending a growing line-up of flagship American name-plates with the most desirable import brands, as that market segment exploded.
Buick, Cadillac, GMC, Chrysler, Jeep, Lincoln-Mercury, Honda, BMW, Nissan, Toyota, Subaru, Hyundai, Saab - even Harley-Davidson and Buell motorcycles - were in the Carbone Group stable as the 21st Century unfolded. The growth in brands was accompanied by a corresponding, nonstop expansion and upgrading of facilities and services that supported them.
In addition to the auto business, Don and Al emerged as leaders in the community, recognized and respected not only for their business acumen, but for the leadership they provided to a myriad of community service programs and charitable causes.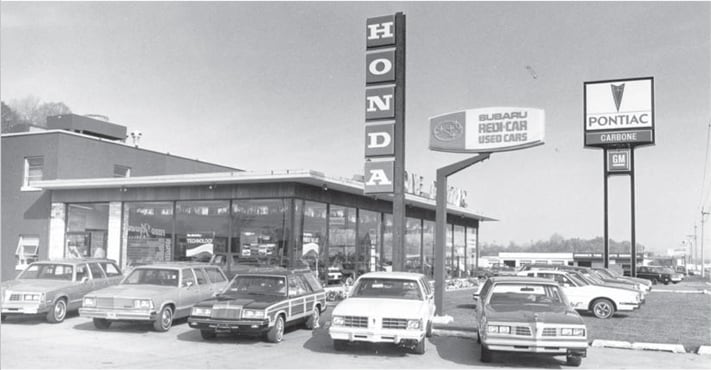 The Carbone Group's expansion on Commercial Drive continued with the addition of a Pontiac dealership, shown here in the 1970s. The Honda and Subaru franchises were also originally located here.

"Every day we try to live Joe Carbone's philosophy. Build relationships by being a friend to the customer. Do the right thing... and be the best at it."
  -
Al Carbone
Today, the words "Don-Al" represent more than the names of the two individuals at the helm of the Carbone Auto Group. Don-Al Management Co., Inc., is the administrative firm that oversees the general operation of all of the dealerships, plus a growing number of affiliates. Those include The Carbone Insurance Agency, Carbone Auto Leasing, Carbone Auto Rentals, Carbone Family Realty, Carbone Wholesale Auto Parts, Carbone Auto Auction and the Carbone Used Car Reconditioning Center. Don-Al Management also coordinates much of the community service participation of the Carbone Group, its dealerships and employees.
Today, the Carbone family's classic Graham and Studebaker truck are
emblematic of the Group's first two franchises.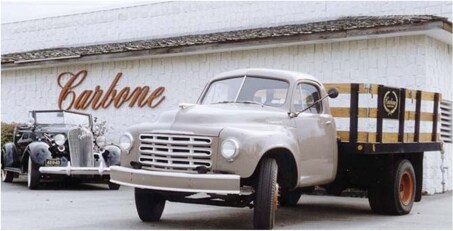 Significantly, the late '80s and '90s brought the entry of the third generation of the Carbone family into the business - Don's sons Joe and Don, Jr., and daughter Enessa; and Al's son, Alex. Today, Joe is Vice President of Mergers & Acquisitions, Don, Jr. is Consultant to Carbone Chrysler-Dodge-Jeep of Boonville, Enessa is Vice President of Administration and Alex is Vice President of Sales.
Like the fathers and grandfather before them, each has gained broad automotive experience and each is applying that, as well as specialized leadership, in keeping the Carbone Group at the forefront of the automotive field.
"My grandfather worked hard to build a strong foundation for the Carbone Group, but he also built a strong foundation of family values and a customer-oriented philosophy. With many of his grandchildren now in the business, we have the opportunity to continue his legacy, adding our own vision to what he started."
  -
Donald A. Carbone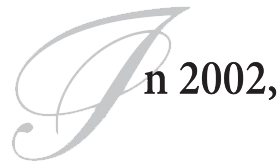 The Carbone Auto Group's leadership in the auto industry and community was recognized at the state and national levels when Don Carbone was named Dealer of the Year by the New York State Automobile Dealers Association and its nominee for the prestigious TIME Magazine Quality Dealer of the Year Award.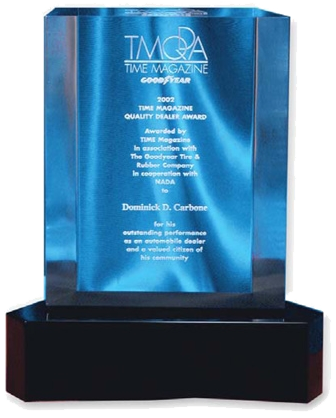 Don was subsequently named on the Top Five Auto Dealers in the Nation, recognizing his personal achievements in business and the community, as well as those of his brother, Al, and the entire Carbone Auto Group management and employee teams.